event type
Day-long programme of events which brought the stories and ideas of Issue 4 from the printed page into the public space.
Dates
23 Febuary 2019
Location
Giant Steps , London, United Kingdom
Dilate was an attempt to do more with our magazine launches. Typically, our launches had been an excuse to wildly celebrate the return of 'free time' in our lives. We would find an interesting enough space, hire a loud sound system, try and find an alcohol brand to give us free drinks in return for some dodgy logo placements and guilt-trip our friends into buying tickets. Half-jokes aside,
our launches had become key to forming the networks and relationships which were so important to us and the communities we were a part of.
They were an opportunity to bring together the not-so-disparate tribes of 'yeah I went to uni in London from 2013 to 2016 (or thereabouts)'. As time passed, the new networks we were a part of thanks to work and post-uni meandering, became part of these launches too. By the time Dilate came around, the network was embedded and particular to our individual and collective experiences. But it was always growing. We met people who we had wanted to work with for ages and whom we collaborated with that year. The atmosphere was special.
Dilate was always about transforming Issue 4 away from the printed page and towards the arena of public programming and debate.
When we began discussing a more-than-a-launch event for the issue, there were two stories which jumped out as a foundation for a programme. Amika's report on how the Grenfell community were using arts to cope with the disaster and Emily Sarsam and Alex Kurunis' collaborative photo-essay on one of London's most beautiful markets, the Latin Village. These two epitomised a spirit of collectivity, togetherness and positive social action which we found sprinkled throughout the issue. It was clear that Dilate should be about developing and sharing this atmosphere. The rest of the programme came together nicely as Amika introduced us to Nendie, who introduced us to Lowkey, and Char (Giant Steps) introduced us to Kandice, who introduced us to Neil. Networks and programming couldn't have been more aligned.
"The programme was equal parts sombering, grounding and energising"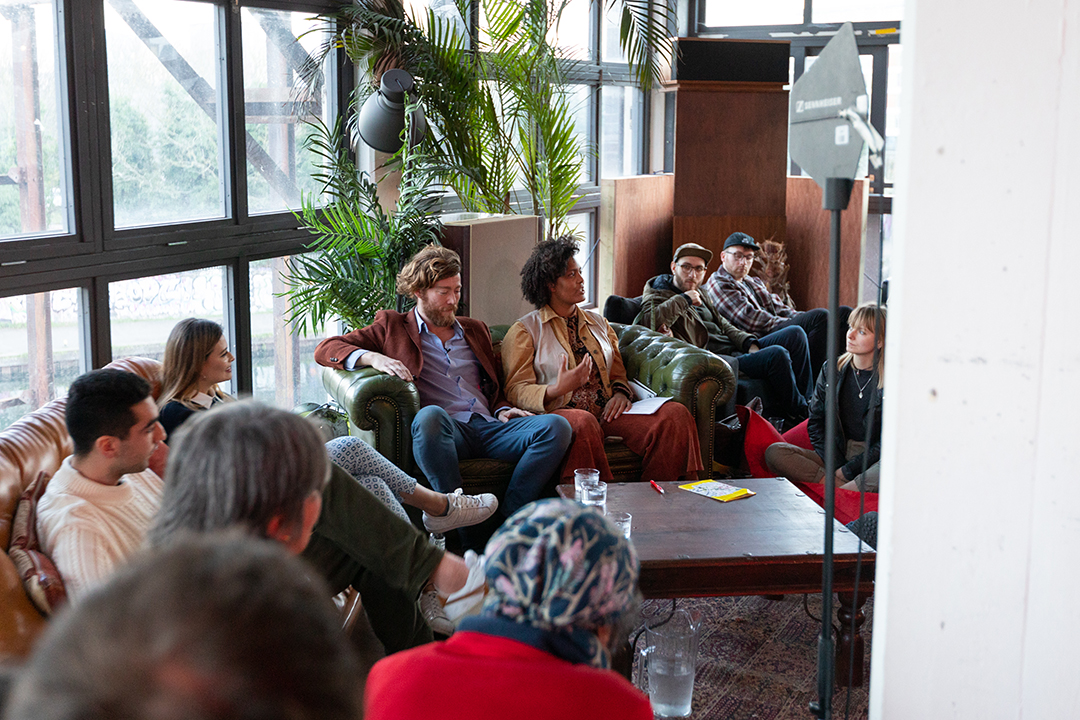 We really tried to squeeze everything in this one day. So we thought while people were taking a break from the talks and screenings, they could see some of the works from the latest issue. The work included:


> Alex Kurunis' photographs of the Seven Sisters Latin Village

> A collection of photographs Claire Köster found in 'Blub', an abandoned leisure centre from her childhood.


> Spreads from a faulty version of 'Homo' by George Selley, taking us on a journey into Britain's prehistoric past.


> Shahram Saadat's bull installation, including an original horn of the Osborne Bull.


> A multi-media installation from Radio Zaatari, a refugee-run radio station.


> A series of beautifully bizarre photographs of Paris by Robin Rozen.
We even had a blind bid to top it all off - some of the works were on sale, with Alex raising a generous amount that he kindly donated to the Latin Village cause. Dilate was the first time we'd produced an event of this scale (until Imprint rolled into town) and leaving financials aside for a second (lol), it couldn't have gone better. The sun was hitting abnormal highs for February and for those who ever had the fortune of going to Giant Steps on a sunny day will know how special of a place it is when the weather is in a good mood. The programme was equal parts sombering, grounding and energising - which is exactly what we wanted.
The event-inspired-by-magazine format allowed us to broaden the impact of the stories we had printed in Issue 4 by introducing new mediums and voices.
Oh and of course, there was an afterparty, with wicked DJ sets by Zakia and Houseplants, and an amazing performance by la familia The Yonis. It was amazing. So were the Negroni's.